Wossner Forge Piston kit for Renault Clio Sport 172 / 182 2.0 16v F4R Turbo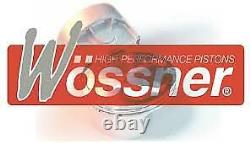 We have the parts you need. Wossner Forge Piston kit for Renault Clio Sport 172 / 182 2.0 16v F4R Turbo. Wossner Forge Piston kit for Renault Clio Sport 172 / 182 2.0 16v F4R Turbo (Bore Sizes available are 82.70mm, 83.00mm, 83.50mm, 84.00mm - please state which size you require in a message when ordering). Wossner are the innovative specialists for high performance pistons. Wossner products are to be found in engines operating at the highest levels of motor sport, in competition and, of course, in everyday use - in fact, anywhere where longevity and operational noise are important factors. Wossner products are the source of the superior power behind the success of well known motor sport teams at national and international race meets. Regarded by many as being the piston of choice when building a high performance engine, Wössner Forged pistons are more then able to withstand the stresses and pressures of competition and fast road life. Wössner pistons are manufactured from a high yield 4032 alloy which has low expansion under temperature. This allows closer piston to bore clearances reducing piston noise.
Wössner pistons also feature a unique graphite based coating on the skirts which aids the bedding in procedure. The versatile nature of Wössner pistons is well documented. The huge range covers virtually every know performance vehicle available in both Europe and Japan as well as fitments unique to Wössner. Price includes all piston rings and gudgeon pins and is for a complete engine set (4, 5 or 6 cylinder).
82.70mm - 1998.22cc 83.00mm - 2012.74cc 83.50mm - 2037.07cc. 84.00mm - 2061.54cc. Ratio 8.5:1 OE Comp. Ratio 11.0:1 Comp.
Height 30.2mm Valves Per Cylinder 4 Cylinders 4. Technical information is sourced from Wossner's latest catalogue. We are a family run business started back in 2004 offering car customising and performance products from top brands such as Forge, K&N, Bailey, Wossner, Walbro, Gaz, The Loudest and many more. We also have products manufactured for ourselves and these are made to the highest standards. Over the past 9 years here at Motorbling we have also expanded our product range into standard replacement parts such as Brakes Pads from EBC and Wing Mirrors from Lucas, so we can now offer everything you need, from customising, to performance to standard replacement parts for MOT'S and general repairs.
We offer fantastic service and discounted prices so why shop anywhere else. For most items, you have the right to return your goods within 30 days of receiving them. However, this right does not apply to items that have been altered upon request, have missing labels or show signs of being used. If you wish to return goods using this right, you need to inform us within 21 days of receiving the goods. You must take reasonable care of the goods and immediately return them at your own expense. Please ask for a "Proof of posting certificate" as we cannot be held responsible for goods that go missing whilst in transit. If you think we've sent you the wrong item or size, please double check the full description in the listing, including the UK size before requesting a return.

---