Renault Sport Clio 200 Meglio Show car 225 R26 not 197 182 172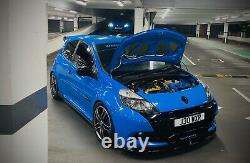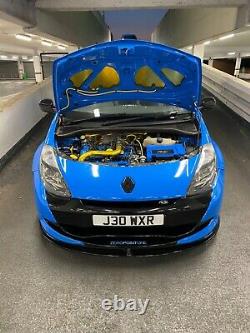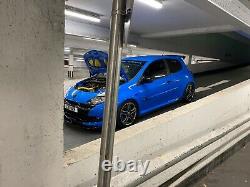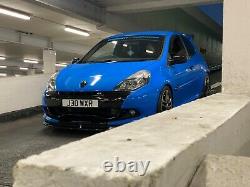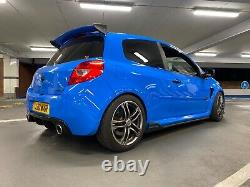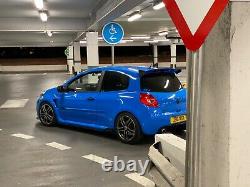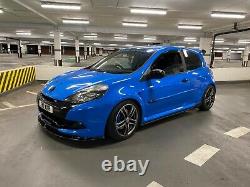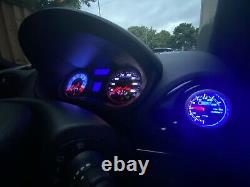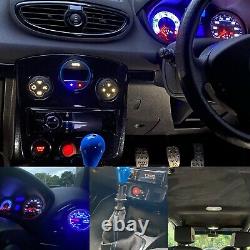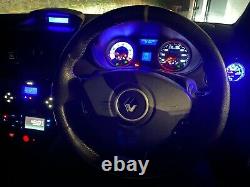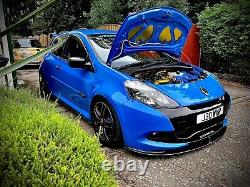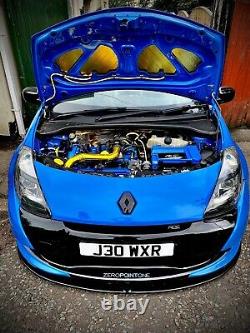 2009 Renault Sport Clio 200. Cup packed from factory with functioning air con and cruise control. Now officially a Meglio Megane 225/r26r powered Clio 200.
Safely tuned and mapped to its maximum 270bhp and 270lbftorque. She made 290/300 on the rollers but more about that below.
Engine mileage: 75K ish (will get proper figure). 15 minutes from junction 27 off the M1. Plate taken off on 27/2/21. Waiting on new V5 to return. Should be here within a week. Rear seats taken out however still have them and all parts to return back in. History of me and the car. Ive always been a renault sport enthusiast for the past 7 or more years.
Im an official club member on the website and highly active on the facebook owners groups, have been for many many years. I had a 182 in black gold which I turned into arguably one of the best looking black golds around. After the 182 my plan was to always get a 200 that had to be in racing blue and something I could turn into a Meglio and eventually turn into a eye turning show car same as the 182. So then I found NL09 LUY.
Previous owner on Facebook and the owners group is Zack Fairbrother from Nottingham we went to Wrexham to pick her up. She was bog standard apart from the factory fitted cup spoiler, no history for belt changes and she had the dreaded 3rd and 4th gear crunch.
Cosmetically she was almost perfect, just age related marks. For those unaware reading this advert, Ren-Sport is a renault specialist garage in Middlesbrough. Its owned and ran by Kris Dark.
His garage 24/7 has at least 5+ Renault sport models hanging inside and outside the garage for work to be done. Kris is also one of the very first to do a Meglio conversion on these cars.
He and one other are the only ones who custom make and supply the looms needed for the cars to run. When I went to Kris he believed I was number 15 or 16 hes done for a 225 conversion. This is no Meglio built on a driveway. This is no part time mechanic with help from his mate part time conversion. This is properly built from start to finish, with plenty of photos and all the receipts to prove.
This was my second, weekend only show car to go around to shows and use on the weekends with my other car enthusiast friends. On the way to work in August 2019, I was T-Boned at 40mph on a junction that completely smashed my daily from the side and forced me into a garden brick wall. From there I was forced to use the show car as my daily. I was distraught and was just going to sell her straight away to fund a new daily. So here we are today. Shes been used as my daily driver since August 2019. Ive loved it but she is just not practical anymore. Ive used her plenty and shes let me down not once! Her build as a Meglio by Kris Dark is literally perfect. I really wouldnt recommend her as a daily though. So onto the advert and details. This has now been replaced by a full 2.75 cobra exhaust system from turbo downpipe back and problem solved and uprated at the same time. Brake hose has slight corrosion. I have since bought a FULL 6 point (not 4 point), FULL 6 point braided hose system from Pro-Line in blue. These will come with the car still in the pack ready to fit. So the spec of the car: 99% of all the below Ive done in my ownership, turned her into how she looks today. Custom black suede wrapped headliner black. Custom black suede matching sunvisors. Custom black suede matching B pillars and rear pillars.
Custom black alcantara w/blue stitching gaitor surround. Pro sport boost gauge sat in a proper vent adapter drivers side correctly wired and mounted. Custom racing blue speedo clock surround with logos.
Full SMD LED conversion in the cabin. Blue and white speedo clocks & air con controls. (My favourite part of the car). LED upgrades all round in map lights and door lights etc. Centre clock has been taken out (still have) and replaced with a ScanGauge2. Fits just right, OBD reader and code clearer with absolutely tons of other options to read on the car, show diagnostics, various uses included volts, oil etc. ZEROPOINTONE extended shifter in racing blue. Kenwood radio with LCD screen all wired in including wired up for a sub. Sub not included but wiring will be left in. Tweeters have been retrofitted in the top dash also as these cars come with blanks. Rear seats taken out but have all the seats still.
Custom made rear seat boot mat delete. Light blue trim and light blue RS logo at boot end. These are no longer made so extremely hard to come by. Genuine front and rear RS mats.
Shes hard wired ready for a dash cam to go in. In built usb A lead just slightly hanging Behind the rear view mirror ready to plug a cam in. Hard wired to the main live wire so engine on and the camera will power up. Clio 200 speedo needles have been taken out and binned. Ive replaced them with 225 needles and painted them properly white. Theyre white in the day and illuminate red during the night. These needles look 100x better than the standard ones.
Privacy window tints limo black on rear 3 windows. Custom black w/ racing blue RS Rear boot badge. Kill all wipers wiper delete.
Genuine factory fitted RS spoiler. Low mileage mint condition 200 diffuser, changed from original at it had seen better days. Rear has 25mm H&R spacers. PMS stud and nut conversion in black.
Front bottom lip wrapped w/ ZPO racing blue logo sticker (personally really like that touch). Genuine 200 xenon headlights factory fitted with cornering lights. Night eye main beam lights (seriously bright, almost like x-rays) LED sidelight bulbs and uprated fog lights.
Diadem indicator bulbs all round. Surprisingly really hard to get hold of now days, the blue prism colour compliments the car perfectly. RS grille badge retrofitted, as 09 200s didnt have them from factory. Sunstrip with custom decals and pinstripe. Custom professionally painted brake calipers in racing blue and a slight different touch with RS decals as the logo. Bullets wrapped in gloss black with RB logo. Standard 200 alloys refurbed in a sparkle gun metal.
There is some very very slight scuffs on these but you cannot notice them as the base coat is black and thats all thats showing. No typical bright silver scuffs here.
Painted gloss black door handles. Diamond performance gloss black badge covers front and rear. Pagid discs and pads all round.
4x BRAND NEW less than 100 miles old Michelin PS4s front and rear. Poweflex purple rear mounting bushes. The paintwork is almost almost excellent, being a hardcore weekend detailer with literally all the proper gear the car has been two staged machine polished when I bought it and is constantly glazed & waxed whenever its washed two bucket method, pre wash, Gtechniq mitts and yeah.. (Engine was on 64K when taken out of the donor car). All the above bought from Alex White RS dealer for clarification and any further questions.
Forge dump valve (loud, always makes me smile haha). Powerflex purple polybushed engine mounts. Deep cleaned and checked over engine by Rensport. Scorpion 3 downpipe into a decat and then into a 2.75 non resonated cobra system. Crackles tons on low revs.
The engine bay has gone through a full overhaul with professionally painted powder coated parts, engine details painted, battery covers painted and custom plaques made and custom fine painted details by myself, yellow hoses, heat wrapped parts and bulkhead by kris at rensport. The thing is full blown show worthy and always makes everyones jaw drop when the bonnets open. Serviced when the conversion was done in 2019.
Last service with oil and filter change was September last year 2020 at 98K. Always genuine parts and oil. Now on 101 Miles since last service. Oil topped up with 1L last week, week beginning 15/2/21. The car is a full blown uprated 225 conversion, pushing maximum power it can without being forged.
Safe mapped by RSTuning to 270/270, anymore than this power and youre entering blown engine territory. For more power youll want to forge it.. It made 290bhp max on the rollers on the old exhaust. Shes capable of more and can be mapped to more.
But as of the general rule for all megane 225 owners and enthusiasts. 270/270 is as much as they like to go without blowing up. My list which I hadnt yet completed before sale/ daily written off is. Never got round to doing it. Powder coated racing blue rear half cage. Change the springs to grams or proper coilovers as the current H&Rs is a VERY firm ride. The car comes with genuine aero catches I never got round to fitting.
Pin ends sent off and come back custom powder coated racing blue so itll perfectly match the engine bay. Slight lacquer peel front lip of front bumper, drivers side, bottom lip, around the size of a 50p piece, never bothered me, never got worse since my ownership.
Pagid discs and pads all round, got life left but Id advise changing them at some point. Smallest pin sized dent you cant even see above passenger rear arch. Car is has no cat. I had to pay extra for the MOTs. Speedo needle 3mph out since the conversion.
Can possibly dial it back a notch but its never bothered me. Ive always gone by whats the needle has told me and never had any issues. Here is the receipt in read only form from kris stating what has been done by him.
(Got all this properly in paper history form). Again this has all been done since mid/late 2019. Build up Megane engine from bare engine as received. Jobs and parts done free of charge.
Supply all engine gaskets and sealant for turbo, down pipe, inlet, exhaust. Supply intake pipe (stock Megane). Supply clamps and all fixings for exhaust decay and downpipe. Supply brake and clutch fluid and bleed clutch system and brakes. Full degrease and steam clean of engine bay. Various silicon hose and vacuum line. Full health check of car and report. Im sure I have missed things but feel free to contact me on here or by my number via text or WhatsApp on. The clio 197/200s are slowly on the price rise now days. Guaranteed there is not another one like this.
I have turned her in an epic show car! All the little details and more. Or through an app or website like Cuvva to insure her for a day.
I wouldnt normally risk it as the consequences are not. But I live literally around the corner from a police headquarters. Entire fleet and main undercover car depot. Same as my old 182. First guy to see it..
The item "Renault Sport Clio 200 Meglio Show car 225 R26 not 197 182 172" is in sale since Sunday, February 28, 2021. This item is in the category "Cars, Motorcycles & Vehicles\Cars\Renault". The seller is "kornissues9" and is located in nottingham.
This item can be shipped to United Kingdom.
Model: Clio
Colour: Blue
Interior/Comfort Options: Air Conditioning
Fuel: Petrol
Year: 2009
V5 Registration Document: Present
Manufacturer: Renault
Engine Size: 2
Transmission: Manual
Mileage: 101068
Seats: 5
Body Type: Hatchback

---