NEW EBC 240mm REAR BRAKE DISCS AND YELLOWSTUFF PADS KIT OE QUALITY KIT17650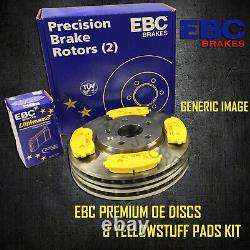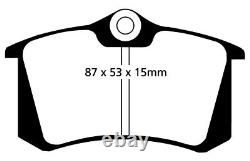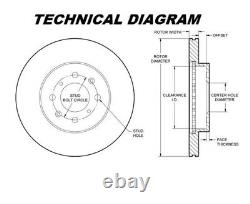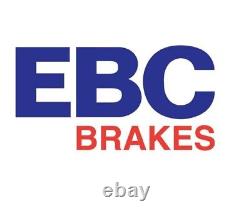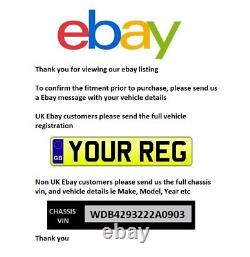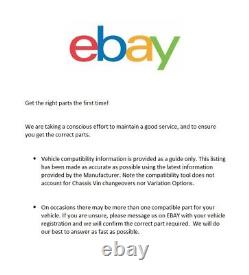 Please check compatibility in the description section. Please read the listing carefully as variants can be common.
NEW EBC 240mm REAR BRAKE DISCS AND YELLOWSTUFF PADS KIT OE QUALITY - KIT17650. Part Number : RR: D1298(DP4680R). Premium Brake Discs (OE) EBC Automotive brake rotors are made from G3000 spec cast iron. Unlike 90% of the Brake Market this is no cheap import brake disc. These brake discs have the highest integrity and product quality on the aftermarket. An OE quality replacement disc, made of the finest grade iron and a perfect replacement disc for any car. Every EBC rotor is runout inspected. Even when manufactured on state of the art precision machines, not even ONE single disc escapes this process guaranteeing perfect disc alignment. If during install you notice runout on your car it will surely be due to a chassis alignment (tracking) that happens on one in seven cars, usually cased by nudging a kerb or hitting a pothole in the road earlier in driving the vehicle. EBC manufacture the vast majority of it's automotive rotors including Premium brake rotors in the UK or Europe. Outside these sources where castings or finished rotors have to be bought in to complement the range, the strictest quality controls are applied to ensure the safety and quality of the parts we sell. All suppliers of castings for the EBC group are ISO approved to the highest specification and have been visited and approved by the German TUV authorities. YELLOWSTUFF: Ultra High Friction Pads for Race, Trackday and Street Use. These pads do not require warm up but do get even stronger under the heat of hard driving. These are not a low dust pad and if your desire is for a low dust premium street use pad, you should consider EBC Redstuff. When considering full race use, Yellowstuff has been a strong favourite, having been used for two years in the Swedish Camaro Cup and at numerous other race events where a stock caliper system is fitted. It is also the choice of 90% of the Mazda MX5 Miata competitors in the UK race series and has an unblemished record as rotor friendly track pad for vehicles up to 3500 lbs or 1600 kilos weight or 200 BHP. In the USA the SCCA and NASA drivershave been testing Yellowstuff with feedback and good reports POURING in from a 543 test driver major market proving event with these groups. Read that figure again 543 test drivers. There is no guesswork here.
Because of its huge heat range, the applications where EBC Yellowstuff will deliver benefits range from fastest street use on higher horsepower sedans to Trackday and Race use on most street based cars and even as a brake upgrade on Trucks and SUV. Yellowstuff is especially appreciated on Trucks for towing and heavy loads and where wheel and tire oversize upgrades have been fitted. Picture A - Generic Image Picture B - Brake Pads Diagram Picture C - Brake Discs Technical Drawing. Rear Number of Bolt Holes. Premium OE Discs + Yellowstuff Pads.
Rear Discs (2x) + Pads (4x). This listing has been made as accurate as possible using the latest information provided by supplier. There may be on occasions more than one compatible part for your vehicle. We will do our best to answer as fast as possible. Be aware that your Model of Vehicle may have a choice of 2 / 3 different Discs And Pads Kit Options. Such variations can apply due to upgrade designs on later chassis numbers, or the manufacturers using different OEM suppliers during production process. We will do our best to assist and narrow down the variations.
In some cases you may have to physically check your current fitted Discs And Pads Kit to the picture diagram and part number provided. Please see the item detail page for confirmation. This also applies to all orders going to the Scottish Highlands, Northern Ireland, or other offshore UK islands. For European deliveries will go with DHL, UPS or DPD Express service. Anything outside of Europe will go by Air Express.
Our post is collected every weekday (Monday-Friday excluding Bank Holidays and exceptional circumstances). Please note that if you have not received your order in the expected time frame, we have to contact courier company before a lost in post claim form can be put through - however this is a very rare occurrence and something we do not see happen often. This item is in the category "Vehicle Parts & Accessories\Car Parts & Accessories\Brakes & Brake Parts\Brake Component Kits". The seller is "oracle-motorstore" and is located in this country: GB.
This item can be shipped worldwide.
Manufacturer Part Number: D1298-DP4680R
Brand: EBC
Placement on Vehicle: Rear, Right, Left
Reference OE/OEM Number: Right hand Left hand nearside N/S rotors two back, pair pairs brakes brake pad car vehicle stop stopping, repair reparing replace replacement change new 4x 4 x, LH RH sensor wear indicator indicators discs disc brake, or axle near below offside high good part a pair, Ultimax 2 Ultimax quality oe premium oe quality, Good quality performance brakes pading, pair pairs brakes brake disc car vehicle stop stopping pairs, good part a pair of discs discs disc brake, Solid Vented Internally Vented Externally Vented Perforated, OEM Quality OE TYPE quality braking kits pads sets double, Sport sporting performance track tracking Yellow Stuff Race, AUDI 161698451D 191615415A 191615415D 191698451 191698451A 191698, 451B 191698451C 191698451D 1E0698451A 1H0698451B 1H0698451C 1H069, 8451E 1H0698451F 1H0698451G 8E0698451B 8E0698451D 8E0698451E 8E06, 98451L JZW698451B PEUGEOT 425056 425108 RENAULT 7701206784 770120, 8213 SEAT 161698451D 191615415A 191615415D 191698451 191698451A 1, 91698451B 191698451C 191698451D 1E0698451A 1H0698451B 1H0698451C, 1H0698451E 1H0698451F 1H0698451G 8E0698451B 8E0698451D 8E0698451E, 8E0698451L JZW698451B SKODA 1H0698451G JZW698451B VW 161698451D, 191615415A 191615415D 191698451 191698451A 191698451B 191698451C, 191698451D 1E0698451A 1H0698451B 1H0698451C 1H0698451E 1H0698451F, 1H0698451G 1H0698451H 8E0698451B 8E0698451D 8E0698451E 8E0698451, L JZW698451B VAG 161698451D 191615415A 191615415D 191698451A 1916, 98451B 191698451C 1H0698451C 1H0698451E 1H0698451F 8E0698451B 8E0, 698451D 8E0698451E EUROPESTAR 571361S

---