New Drive Shaft For Dacia Renault Logan Ls K9k 796 K9k 792 K4m 696 K7m 800 Gsp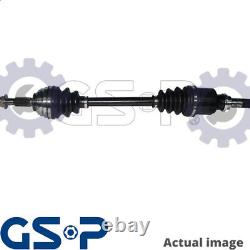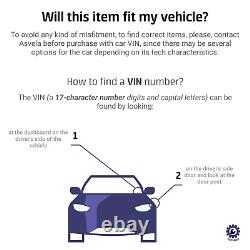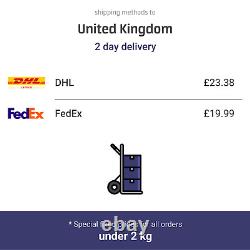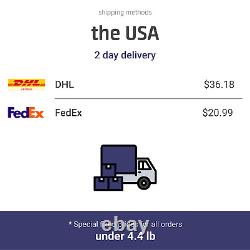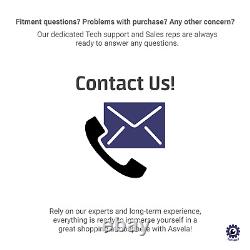 NEW DRIVE SHAFT FOR DACIA RENAULT LOGAN LS K9K 796 K9K 792 K4M 696 K7M 800 GSP. Will this item fit your vehicle? Before purchasing, please, pay attention to item Tech Data and check Reference Numbers section. Make sure that one of these reference numbers does coincide with the number of your previous part or does replace your Original Equipment Number.
Surely, in case you doubt in fitment, cannot find the number of your previous part listed in Reference Numbers section, or just cannot be sure about item compatibility with your vehicle, we are here to assist you from Monday to Friday (excluding weekends, but still we will get in touch on Monday). Thank you for your understanding. Our listings tech data details are provided from official manufacturers' tech data sources. It is highly recommended to verify fitment with our dedicated support before ordering.
Use engines info and vehicle YMM compatibility chart for general guide. To avoid any kind of misfitment, when you doubt in compatibility, or cannot find the correct item, please, contact Parts4Car tech support before purchasing.
Strictly important to provide VIN along with your detailed request since there can be different options for your car specific tech characteristics. The VIN a 17-character number (digits and capital letters)can be found by looking at the dashboard on the driver's side of the vehicle or on the driver's side door and look at the door post. GSP 250353 LS KS US FS SB SR KR0/1 BR0/1 CR0/1 F/JP0 K9K 796 K9K 792 K4M 696 K7M 800 K9K 892 K4M 690 K7M 710 K9K 794 D4F 784 K9K 766 K9K 768 K4M 862 K9K 770 K4J 780 K9K 752 D4F 786 K4M 800 K4M 801 K9K 714 K9K 750 K4M 804 ACEMARK 213444 215144 A178352A 103242 ASAM 30540 ASAMSA 30968 AUTEX 830365 821180 AYWIPARTS AW1530300 BUGIAD 51480 CAR GRN6980K CDX 3075 CEVAM 7531 5533 7501 CIFAM 607502 655904 607501 655-904 COMLINE ECV222 DA SILVA 4521T C4521 4519T C4519 JC4519 4529T C4529 DACIA 6001551095 8200863653 8200863524 6001551096 6001550690 6001550691 8201187935 DELCO REMY A178352A DRDS27286 DENCKERMANN C120218 DEPA 3204550 3204750 3204250 EAI T49267 EKG 924944 924460 FARCOM 140064 FENOX CV16205 FORMPART 22380093S 45398001S GENERAL RICAMBI RE3374 GLO 3718K GR RE3454 DC3014 GSP 250353 850092 HAFT GA0201 INTERPARTS RN-8-29-120 IPD 312736 332138 312735 KAGER 136854 131517 KRONER K101380 LAUBER 882738 LOBRO 305193 304733 LOEBRO 305362 LPR DS52217 KRN698 KRN697 LYNXAUTO CD6703 MAGNETI MARELLI 359002501770 MAPCO 16153 MASTER-SPORT 304733SETMS MAXGEAR 490527 METELLI 151502 170904 150502 151501 17-0904 MEYLE 16144980026 MILES GA20388 GC01113 NK 513915 ODM MULTIP 18-291200 ODM-MULTIPARTS 18291200 12291978 OPEN PARTS CVJ563310 CVJ561310 OPTIMAL DS4316 DS2631 DS4200 CW1515 PATRON PDS0248 PCV1631 PCV1501 PROTECHNIC PRA206 PRJ673 QH BENELUX QVJ1441 QUINTON HAZELL RCA FRANCE RE96 R560AN R914AN RCAFRANCE R560A RENAU 6001548718 8200261840 8200440187 8200499585 8200511225 8200618501 7711368512 711497150 8200559377 8200411381 8200511220 391014232R RENAULT RUVILLE 75519S SBS 1914513915 SERA TR152 SERCORE 221372 21769 121372 21675 30675 SHAFTEC R305L R308L R308LN SKF VKJC5992 VKJC5985 SNR DK55080 SNRA R1152 SPIDAN 24944 24460 25139 STELLOX 1581799SX 1501502SX 1501501SX TRAKMOTIVE 300339 TRISCAN 854025656 854025107 854025630 854025654 8540 25656 VAICO V460482 VEMA 20018969. Packages sent by courier require signature. If you need our assistance, please let us to know.
If you see that the package that courier tries to deliver is damaged, please fill up the claim form or do not accept it. NOTIFY US right away, we will arrange a replacement/reimburse your order A. Items that are sent in vacum or lubricated film cannot be opened if the retuns is issued. Please let us to know if you have not received our feedback, we will give feedback manually.
This item is in the category "Vehicle Parts & Accessories\Car Parts & Accessories\Transmission & Drivetrain\Drivetrain Hardware & Fasteners". The seller is "spareparts4cars" and is located in this country: LT. This item can be shipped worldwide.
Manufacturer Part Number: 250353
Brand: GSP
Driveshaft Type: Drive Shaft
Classic Part: No
Custom Bundle: No
Modified Item: No
Mileage: 0
Warranty Period: 12 month
Unit Quantity: 1
Unit Type: Unit
Reference OE/OEM Number: LS KS US FS SB SR KR0/1 BR0/1 CR0/1 F/JP0 K9K 796 K9K 792, K4M 696 K7M 800 K9K 892 K4M 690 K7M 710 K9K 794 D4F 784 K9K 766, K9K 768 K4M 862 K9K 770 K4J 780 K9K 752 D4F 786 K4M 800 K4M 801, K9K 714 K9K 750 K4M 804 ACEMARK 213444 215144 A178352A 103242, ASAM 30540 ASAMSA 30968 AUTEX 830365 821180 AYWIPARTS AW1530300, BUGIAD 51480 CAR GRN6980K CDX 3075 CEVAM 7531 5533 7501 CIFAM, 607502 655904 607501 655-904 COMLINE ECV222 DA SILVA 4521T, C4521 4519T C4519 JC4519 4529T C4529 DACIA 6001551095, 8200863653 8200863524 6001551096 6001550690 6001550691, 8201187935 DELCO REMY A178352A DRDS27286 DENCKERMANN C120218, DEPA 3204550 3204750 3204250 EAI T49267 EKG 924944 924460, FARCOM 140064 FENOX CV16205 FORMPART 22380093S 45398001S, GENERAL RICAMBI RE3374 GLO 3718K GR RE3454 DC3014 GSP 250353, 850092 HAFT GA0201 INTERPARTS RN-8-29-120 IPD 312736 332138, 312735 KAGER 136854 131517 KRONER K101380 LAUBER 882738 LOBRO, 305193 304733 LOEBRO 305362 LPR DS52217 KRN698 KRN697 LYNXAUTO, CD6703 MAGNETI MARELLI 359002501770 MAPCO 16153 MASTER-SPORT, 304733SETMS MAXGEAR 490527 METELLI 151502 170904 150502 151501, 17-0904 MEYLE 16144980026 MILES GA20388 GC01113 NK 513915, ODM MULTIP 18-291200 ODM-MULTIPARTS 18291200 12291978, OPEN PARTS CVJ563310 CVJ561310 OPTIMAL DS4316 DS2631 DS4200, CW1515 PATRON PDS0248 PCV1631 PCV1501 PROTECHNIC PRA206 PRJ673, QH BENELUX QVJ1441 QUINTON HAZELL RCA FRANCE RE96 R560AN R914AN, RCAFRANCE R560A RENAU 6001548718 8200261840 8200440187, 8200499585 8200511225 8200618501 7711368512 711497150, 8200559377 8200411381 8200511220 391014232R RENAULT RUVILLE, 75519S SBS 1914513915 SERA TR152 SERCORE 221372 21769 121372, 21675 30675 SHAFTEC R305L R308L R308LN SKF VKJC5992 VKJC5985, SNR DK55080 SNRA R1152 SPIDAN 24944 24460 25139 STELLOX, 1581799SX 1501502SX 1501501SX TRAKMOTIVE 300339 TRISCAN

---