New Brake Shoe Set For Renault Dacia Lada Clio IV Box H4b 400 H4b 408 Bosch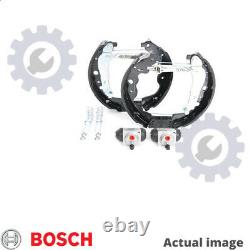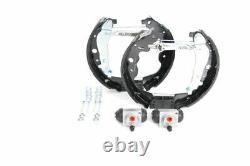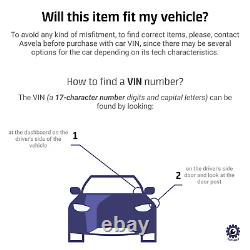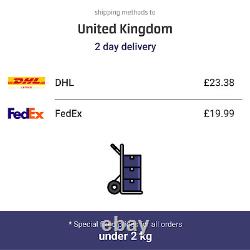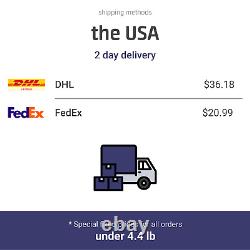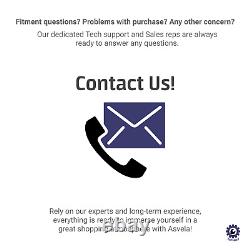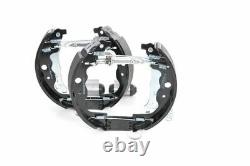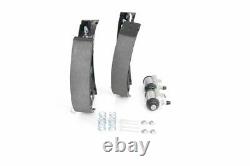 NEW BRAKE SHOE SET FOR RENAULT DACIA LADA CLIO IV BOX H4B 400 H4B 408 BOSCH. Will this item fit your vehicle? Before purchasing, please, pay attention to item Tech Data and check Reference Numbers section. Make sure that one of these reference numbers does coincide with the number of your previous part or does replace your Original Equipment Number. Surely, in case you doubt in fitment, cannot find the number of your previous part listed in Reference Numbers section, or just cannot be sure about item compatibility with your vehicle, we are here to assist you from Monday to Friday (excluding weekends, but still we will get in touch on Monday).
Thank you for your understanding. Our listings tech data details are provided from official manufacturers' tech data sources.
It is highly recommended to verify fitment with our dedicated support before ordering. Use engines info and vehicle YMM compatibility chart for general guide. To avoid any kind of misfitment, when you doubt in compatibility, or cannot find the correct item, please, contact Parts4Car tech support before purchasing. Strictly important to provide VIN along with your detailed request since there can be different options for your car specific tech characteristics. The VIN a 17-character number (digits and capital letters)can be found by looking at the dashboard on the driver's side of the vehicle or on the driver's side door and look at the door post.
BOSCH 0 204 114 896 4047025098984 A. 9268 ABE C0R031ABE ALLIED NIPPON ABS3114 AMIWA CS3345 APEC BRAKING SHU735 ASAM A178352A 30299 32393 ASAMSA ASHIKA 5500015 ATE 03052079193 03052072223 03013704962 3013704962 3052072223 650496 697222 03 0520 7919 3 AUTOSFEC BS002022 BEHRHELLA 8DB355000301 BENDIX 381415B BOSCH 0204114896 204114896 0986487754 0986487899 986487754 BRECKNER BK43004 BREMBO S68546 XBRS68546 BREMS. TEILE 56804 56864T2M BRP BRS4031 CIFAM 153365 DACIA 440208382R 440209423R 6001549705 4154200220 6001549703 6001549704 7701210109 44 02 083 82R 60 01 549 705 DELPHI LS2022 DENCKERMANN B120179 DON MFR610 E. 090682 90682 FEBI BILSTEIN 43615 FEDERAL MOGUL FSB4031 FENOX BP53009 FERODO FMK607 FRI. 1088240 FRIXA B1205003 FTE BB1362A1 GBRAKE GS21003 GIRLING 5310814 5187809 5310581 GSK1082 GOODWILL 2097RB HANSPRIES 701434016 HELLA 8DB355022871 HELLA PAGID 355000301 IBERIS IB154035 JAPANPARTS GF015AF JAPKO 55015 JURID 381522J 381538J KAGER 340718 KAWE 09890 KRAFT AUTOMOTIVE 6025064 KUJIWA KUD43551 LADA LPR OEK824 9890 LYNX BS6304 LYNXAUTO MAGNETI MARELLI 360219198365 BSS8365 MASTER-SPORT 03013704962SETMS MERCEDES A4154200220 MERCEDES-BENZ METELLI 530365 151-357 51-0357 METZGER MG115 MEYLE 16145330016 MGA PM881873 PM881861 M881 MINTEX MSP337 NAKAYAMA HS7281NY NIBK FN43551 FT3255 NISSAN 4406000Q0E NK 443978701 2739787 449957201 OE OE3 OPEN PARTS BSA222900 OTTOZIMMERMANN 109901545 PAGID H1693 R1350 PATRON PSP4031 PILENGA BMBS8456 BSP8455 BSP8456 PROTECHNIC PRS0790 RAICAM 7530RP RAL REMSA 423700 RENAU RENAULT RENAULT TRUCKS ROADHOUSE SBS 1830449957201 18492739787 SFEC SMART STOP 381415S TEXTAR 91069300 84069300 TOMEX 2218 TRUSTING 088240 88240 TRW GSK1081 GS8780 GSK1058 TSN 23322 VALEO 564104 VAZ VITE VBS8780SS WEEN 1522502 WOKING Z423700 ZEKKERT BK4054 ZIMMERMANN XZM109901545 10990.154.5. Packages sent by courier require signature. If you need our assistance, please let us to know. If you see that the package that courier tries to deliver is damaged, please fill up the claim form or do not accept it. NOTIFY US right away, we will arrange a replacement/reimburse your order A. Items that are sent in vacum or lubricated film cannot be opened if the retuns is issued. Please let us to know if you have not received our feedback, we will give feedback manually. This item is in the category "Vehicle Parts & Accessories\Car Parts & Accessories\Brakes & Brake Parts\Brake Shoes". The seller is "spareparts4cars" and is located in this country: LT.
Reference OE/OEM Number: A. 9268 ABE C0R031ABE ALLIED NIPPON ABS3114 AMIWA CS3345, APEC BRAKING SHU735 ASAM A178352A 30299 32393 ASAMSA ASHIKA, 5500015 ATE 03052079193 03052072223 03013704962 3013704962, 3052072223 650496 697222 03 0520 7919 3 AUTOSFEC BS002022, BEHRHELLA 8DB355000301 BENDIX 381415B BOSCH 0204114896, 204114896 0986487754 0986487899 986487754 BRECKNER BK43004, BREMBO S68546 XBRS68546 BREMS.TEILE 56804 56864T2M BRP, BRS4031 CIFAM 153365 DACIA 440208382R 440209423R 6001549705, 4154200220 6001549703 6001549704 7701210109 44 02 083 82R, 60 01 549 705 DELPHI LS2022 DENCKERMANN B120179 DON MFR610, E. 090682 90682 FEBI BILSTEIN 43615 FEDERAL MOGUL FSB4031, FENOX BP53009 FERODO FMK607 FRI. 1088240 FRIXA B1205003, FTE BB1362A1 GBRAKE GS21003 GIRLING 5310814 5187809 5310581, GSK1082 GOODWILL 2097RB HANSPRIES 701434016 HELLA 8DB355022871, HELLA PAGID 355000301 IBERIS IB154035 JAPANPARTS GF015AF JAPKO, 55015 JURID 381522J 381538J KAGER 340718 KAWE 09890, KRAFT AUTOMOTIVE 6025064 KUJIWA KUD43551 LADA LPR OEK824 9890, LYNX BS6304 LYNXAUTO MAGNETI MARELLI 360219198365 BSS8365, MASTER-SPORT 03013704962SETMS MERCEDES A4154200220, MERCEDES-BENZ METELLI 530365 151-357 51-0357 METZGER MG115, MEYLE 16145330016 MGA PM881873 PM881861 M881 MINTEX MSP337, NAKAYAMA HS7281NY NIBK FN43551 FT3255 NISSAN 4406000Q0E NK, 443978701 2739787 449957201 OE OE3 OPEN PARTS BSA222900, OTTOZIMMERMANN 109901545 PAGID H1693 R1350 PATRON PSP4031, PILENGA BMBS8456 BSP8455 BSP8456 PROTECHNIC PRS0790 RAICAM, 7530RP RAL REMSA 423700 RENAU RENAULT RENAULT TRUCKS ROADHOUSE, SBS 1830449957201 18492739787 SFEC SMART STOP 381415S TEXTAR, 91069300 84069300 TOMEX 2218 TRUSTING 088240 88240 TRW GSK1081, GS8780 GSK1058 TSN 23322 VALEO 564104 VAZ VITE VBS8780SS WEEN, 1522502 WOKING Z423700 ZEKKERT BK4054 ZIMMERMANN XZM109901545
Brand: BOSCH
Manufacturer Part Number: 0 204 114 896
EAN: 4047025098984
UPC: 4047025098984

---