Gaz GHA339 GHA Coilover Suspension Kit (54mm) for Renault Clio 172 RS Sport, Cup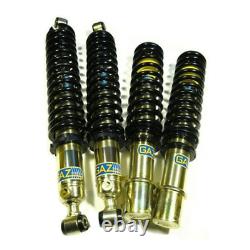 Gaz GHA339 GHA Coilover Suspension Kit (54mm) for Renault Clio 172 RS Sport, Cup. Renault Clio 172 RS Gaz Coilover Suspension Kit - GHA Kit Configuration Fitment: Renault Clio 172 RS Sport and Cup (models with 54mm front strut hole spacing) This kit is aimed at the fast road and track day market. This kit is supplied as full coilover front and rear maintaining full height and damping adjustability at all four corners. For Clio 172 we also supply Gaz front top mounts if required. These can be added to your order using the drop down menu above. Full details of these can be found below in the related products section. This kit is not designed to accept the higher loadings of prolonged use with semi or full slick tyres or the very high spring rates these tyres require to generate the heat required to fully exploit their extra grip available. For serious track day or race car suspension, please see our Gaz Gold listing for your car. Free Custom Set Up We offer a FREE service on the Gaz GHA kits where we can tailor the spring rates and damper valving to accommodate engine swaps, stripped interiors and more focused track days cars to ensure you get the right set up for your needs. Features of the Renault Clio 172 RS Sport / Cup Gaz Coilover Suspension Kit (54mm) Bolts to original suspension mounts (unless otherwise stated) Complete kit supplied (dampers, springs, height adjustment tool) On car damping adjustable On car height adjustable Course acme thread for ease of height adjustment Single control knob for rebound damping adjustment Zinc plated for maximum corrosion resistance All kits are dyno tested before despatch.
Full Vehicle Compatibility: Renault Clio 172 RS Sport, Cup. WG Motorparts is built on our passion for cars. We supply aftermarket car parts for all makes and models of vehicles. Our network of over 50 global manufacturers means that we can get the parts you need, when you need them.
And because we deliver worldwide we can send those parts anywhere, direct to your door. So if you need a specific part or a custom package that isn't listed on our website yet, get in touch and we'll do all the work. Get in contact with one of our knowledgeable support representatives today. Please be aware that some of our items are made to order and can carry extended lead times.
Upon receipt of your order please check the package and contents. "Item arrived quickly, no issues, will trade againfor sure". "Happy, good postagedeal with anytime".

---