Eibach wheel spacer 40 mm system 7 Renault Clio III C (BR0/1, CR0/1, from 01.05)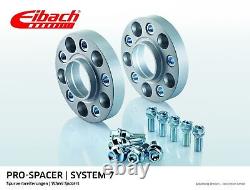 Bei Fragen zum Artikel, wenden Sie sich bitte an unser Support Team! Wir helfen Ihnen gerne weiter! Eibach Spurverbreiterung 40mm System 7 Renault Clio III C (BR0/1, CR0/1, ab 01.05). Formvollendete Passform durch geringste Fertigungstoleranzen, resultierend in ausgewogener Radbalance. Dauerfestigkeit aller Typen nach modernsten Verfahren geprüft.
Hochwertiger Korrosionsschutz durch Spezialbeschichtung (Salzsprühtest nach DIN 50021). Hoher Gewichtsvorteil gegenüber Spurverbreiterungen aus Stahl. Um dem Look und der Performance Ihres Fahrzeuges den letzten Schliff zu geben, hat unser Ingenieursteam die Eibach Pro-Spacer entwickelt.
Geben Sie Ihrem Fahrzeug eine breitere, stabilere Spur - schnell und problemlos. Spurverbreiterungen sind die ideale Ergänzung zum Pro-Kit oder zur Sportline, wenn dem Serien- oder Zubehörrad der letzte optische "Kick" fehlt. Mit dem passenden Eibach Pro-Spacer bekommt Ihr Fahrzeug einen noch sportlicheren Look, weil die Räder und Reifen auf diese Weise die Radhäuser erst richtig ausfüllen.
Pro-Spacer gibt es in den verschiedensten Ausführungen von 5 bis 30? Mm (pro Rad), damit Sie Ihre Räder je nach Fahreinsatz genau dort positionieren können, wo Sie die beste Fahrleistung und den besten Look herausholen können. Gerade bei vielen Serienfelgen verbessert die Installation der passenden Pro-Spacer die Optik und Performance der vorhandenen Räder und Reifen derart, dass ein Neukauf von Spezialprodukten unnötig wird. Spurweitenänderung von 40 bis 60 mm (Scheibendicke 20 bis 30 mm).
B Rad an Scheibe: mittels Serien- bzw. Passend für: Renault Clio III C (Typ BR0/1, CR0/1, ab 01.05). Verbreitererung pro Achse: 40 mm. Hinweis 1: Allgemeine Hinweise zu Spurverbreiterungen: Unsere Spurverbreiterungen werden unter Berücksichtigung der Serienfelgen entwickelt. Bei der Verwendung von Zubehör- und Sonderfelgen, speziell bei Fahrzeugen mit Stehbolzen/Muttern-Befestigung ist zu prüfen, ob die entsprechenden Voraussetzungen an der Felge vorhanden sind z.
Aussparungen zur Aufnahme der Originalbolzen. Bei Umbauten und Sonderzubehör Betrifft auch Serienzubehör! Dem Einbau einer Sonderbremsanlage, Räder-Zentralverschluss, Sportfahrwerk, LPG-Anlage etc. Ferner weisen wir darauf hin, dass je größer die Felgendimension wird, desto empfindlicher reagiert die Lenkung beim Verbau von Distanzscheiben im Bezug auf Vibrationen, die z. Durch ungenau gewuchtete Räder entstehen können.
Eine Verwendung von Spurverbreiterungen mit Stahlfelgen ist nicht erlaubt. Distanzscheiben sollten immer nur von Hand montiert werden. Auf die Verwendung eines elektrischen oder pneumatischen Schraubwerkzeugs sollte verzichtet werden, da dieses unter Umständen zu einem nicht optimalen Sitz der Distanzscheibe auf der Mittenzentrieung und somit zu unerwünschten Vibrationen im Fahrbetrieb führen kann. Made from high-tensile-strength aluminum alloy.
Exact fitment by using minimal production tolerances, resulting in exceptional wheel balance. All applications tested in rigid durability- and fatigue tests.
High-grade corrosion protection through a special coating process (salt spray test according to DIN 50021). Significant weight advantage compared to wheel-spacers made from steel. Eibach Pro-Spacer (Wheel Spacers) is the ideal combination for use with the Eibach Pro-Kit as well the Sportline, if the original or aftermarket wheels are missing that last optical "kick".
With the Eibach Pro-Spacer installed, the car looks wider and better, as the wheel fills the arch. That's how the car's look gets its final touch. By increasing the track width, not only the appearance is improved, but you also achieve an optimized driving behavior combined with higher stability, as the roll of the chassis is influenced in a positive manner. Optimize the "sportive touch" to the last detail: wheels, tires, Eibach Suspension Components and Pro-Spacer! The Pro-Spacer is available in different versions from 5 to 30mm width (per Wheel).
Disc with a screw system. With centering collar (centering nose).
Track change from 40 mm to 60 mm (disc thickness from 20 mm to 30 mm). Fastening: a disc at wheel carrier: by using special fi xing bolts or b wheel at disc: by using production (or accessory-wheel-) bolts. System 7: with steel bushing.
H&R Federn ABE 40mm 29270-4 VW Bus T5 ab 03.03 Tieferlegung Sportfedern. H&R Federn 55/35mm 29484-1 BMW 3er E46 346L/R Tieferlegung Sportfedern.
H&R SV 40mm 40556658 Audi A6 4G, 4G1 Spurverbreiterung Spurplatten. H&R Federn 60mm 29613-1 Mercedes 190/190 E W201 Tieferlegung Sportfedern. H&R Federn ABE 35mm 28840-2 VW Golf VII GTI + Performance (AU) Tieferlegung.
H&R Federn ABE 35mm 29012-1 Ford Fiesta JA8 ab 09.08 Tieferlegung. Eibach Pro-Kit Federn 35/30mm Audi A4 Avant (8K5, B8) E10-15-011-01-22. H&R Spurverbreiterung schwarz 40mm B40556658 Audi A5 Typ B8 Spurplatten. H&R SV 60mm 6075725 BMW 5er E60/E61 560L ohne iX Spurverbreiterung Spurplatten. H&R Spurverbreiterung schwarz 40mm B40556658 Audi A6 4G, 4G1 Spurplatten. H&R SV 40mm 40556658 Audi A5 (Typ B8) Spurverbreiterung Spurplatten. H&R ABE 30/40mm Spurverbreiterung BMW 3er E90/E91/E92/E93 1205725. H&R Federn 35/55mm 28974-1 VW Polo 6R ab 06.09 Tieferlegung Sportfedern.
H&R ABE SV 60/60mm Ford Ranger 2AW 1396930 Spurverbreiterung Spurplatten. H&R 60mm Spurverbreiterung 60757404 BMW X5 Typ X70 (E70). H&R ABE 30/40mm Spurverbreiterung BMW 3er E46 1205725. H&R 40mm Spurverbreiterung 40556654 Mercedes-Benz E-Klasse (W212).
H&R Federn ABE 35mm 29008-4 VW Golf VI Variant 1KM Tieferlegung Sportfedern. H&R 40mm Spurverbreiterung 40556654 Audi A5 (Typ B8). Powered by MMM Automotive GmbH.
This item is in the category "Auto & Motorrad: Teile\Autoteile & Zubehör\Autoreifen & Felgen\Spurverbreiterungen & Zentrierringe". The seller is "mmm-automotive" and is located in this country: DE.
This item can be shipped worldwide.
Hersteller: Eibach
Herstellernummer: S90-7-20-014
EAN: 4050278021845
Marke: Eibach

---