DTE gaspedaltuning Renault Clio II (BB, CB, from 03.98) 2.0 16V Sport 132kWith179PS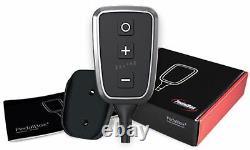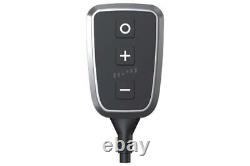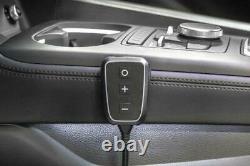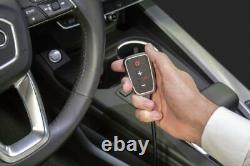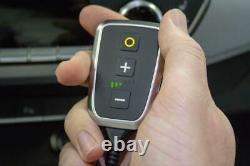 Bei Fragen zum Artikel, wenden Sie sich bitte an unser Support Team! Wir helfen Ihnen gerne weiter! DTE Gaspedaltuning RENAULT CLIO II (BB_, CB, ab 03.98) 2.0 16V Sport 132kW/179PS. DTE Pedalbox + - Das Gaspedal-Tuning von DTE ist Beschleunigung frei von jeder Verzögerung für alle modernen Fahrzeuge.
Die PedalBox+ optimiert die Gaspedal-Kennlinie moderner Fahrzeuge und verbessert das Ansprechverhalten des Motors. Für einen souveränen Start an der Ampel und zügiges Herausbeschleunigen auf der Autobahn liefert die PedalBox stets die nötige Performance. Eine unmittelbare Beschleunigung und pures Fahrvergnügen für jeden Autofahrer. So einfach, so genial - Das Gaspedal-Tuning von DTE. Geeignet für alle modernen Fahrzeuge.
Mit Benzin- oder Diesel-, Turbo- oder Kompressormotoren, Hybrid- oder Elektroantrieb. Mit Schalt-, Automatik- oder Doppelkupplungsgetriebe.
4 Fahrmodi mit über 20 verschiedenen Einstellungen. Beschleunigung ohne die "berühmten Denksekunden". Für ein sportliches und dynamisches Fahrerlebnis. Alle Programme sind nach Fahrerwunsch einstellbar. Noch präziser mit modernster DSP-Technologie.
Die PedalBox+ trägt die CE- und ECE-Kennzeichnung und ist nach EMV Richtlinie 2014/30/EU zugelassen. Die PedalBox+ ist fahrzeugspezifisch programmiert und wird als Komplett-Set inkl. Programme - Über die Programm- und Steuerungstasten lässt sich die PedalBox+ individuell auf Fahrerwunsch einstellen. Auswahl und Einstellung - Mit der PedalBox+ bietet DTE Systems jedem Fahrer die Möglichkeit, sein persönliches Fahrprogramm zu wählen.
Für begeisterte Autofahrer bietet die PedalBox+ eine Auswahl von speziell abgestimmten und völlig anpassbaren Fahrmodi. Mit der Programmtaste wählt der Fahrer sein persönliches Fahrprogramm einfach und schnell per Knopfdruck. CITY - Der Modus CITY ist perfekt ausgelegt für Stop-and-Go im Stadtverkehr.
Er gewährleistet einen verbesserten Durchzug im niedrigen Drehzahlbereich. Das Ansprechverhalten ist auf den ökonomischen Verbrauch programmiert.
SPORT - Der Modus SPORT steigert die Gasannahme bereits deutlich und eignet sich für die meisten Fahrsituationen. Der Motor spricht spontaner an: Ein echtes Plus an Dynamik, das der Fahrwerk vorallem bei Überholmanövern spürt. SPORT+ - Der Modus SPORT+ verfügt über eine optimierte Gasannahme im gesamten Drehzahlbereich. Das Ansprech- verhalten ist in diesem Modus ausgelegt für schnelles Anfahren und rasches Beschleunigen.
SERIE - Der Modus SERIE befindet sich das Fahrzeug wieder im Serienzustand. FEINJUSTIERUNG - Jedes Programm kann individuell um bis zu drei Stufen erhöht (LEDs leuchten rot) oder um bis zu drei Stufen reduziert (LEDs leuchten grün) werden. Schnell verbaut und sofort startklar Die PedalBox+ ist mit wenigen Handgriffen verbaut. Dazu werden die beiden originalen PedalBox Stecker mit dem elektronischen Gaspedal im Fahrzeug verbunden.
Nachdem Einbau ist die PedalBox sofort einsatzbereit. Dank der mitgelieferten Halterung wird die PedalBox+ immer in Griffweite des Fahrers platziert. Mit den beiligenden Klebepads kann die PedalBox+ leicht fixiert und z. Bei Fahrzeugwechsel, rückstandlos wieder entfernt werden.
Passend für: RENAULT CLIO II (Typ BB_, CB, ab 03.98) 2.0 16V Sport 132kW/179PS. The PedalBox+ - DTE Systems developed the PedalBox+ in order to improve response in modern cars. The PedalBox+ is an additional control unit, with four user-selectable programmes, that increases throttle response by removing delays in the accelerator, enhancing driveability. All drivers face a wide range of driving conditions and situations. The PedalBox+ allows drivers to choose between four levels, each with three seperate modes offering improved response.
The PedalBox+ includes different programmes tailored to meet the most drivers range of driver's wishes. The driver can select the programme most suited to the driving situation. Moments of delay are a thing of the past.
The signal is immediately followed by the response, giving the driver the feeling that he or she is accelerating faster. However, the torque remains the same. It is merely the response ratios that have improved. Once responsiveness has improved, driving is a lot more fun. Plus, quick acceleration without any delay gives drivers the feeling of being in better control of their vehicle.
The PedalBox+ will meet the expectations of customers and their cars. The often delayed throttle response of modern engines is gone, while retaining the standard engine control unit.
Improved throttle response for all vehicle types (naturally aspirated / turbo). Turbo petrol and turbo diesel engines with automatic or manual transmissionli. No more acceleration weakness delays when the accelerator pedal is pressed. No more "turbo lag" - the gear unfolds its power constant without delay. Fitting for: RENAULTCLIO II (Typ BB_, CB, ab 03.98) 2.0 16V Sport 132kW/179PS. H&R DRA Spurverbreiterung Distanzscheibe Spurplatten 40mm / 2x20mm 5x120 NB 72.5. Eibach Sportline ABE Federn 45-50/30-35 mm VW Golf V 1K1 / Golf VI 5K1 Springs. H&R DRA Spurverbreiterung Distanzscheibe Spurplatten 40mm / 2x20mm 5x112 NB 57.1. H&R SV 40mm 40556658 Audi A6 4G, 4G1 Spurverbreiterung Spurplatten. Pipercross Tauschfilter Hyundai i30N + Performance 250 + 275 PS Sportluftfilter. H&R Federn mit ABE 35mm Hyundai i30N + I30N Performance (PDE, PD) Tieferlegung.
Eibach Pro-Kit ABE Federn 35/30mm Audi A4 Limo + Avant 8K2, B8 Lowering Springs. Eibach Pro-Kit Tieferlegungsfedern 15mm Hyundai i30N 2.0N + Performance, Fastback. H&R Federn 55/35mm 29484-1 BMW 3er E46 346L/R Tieferlegung Sportfedern.
Eibach Pro-Spacer Spurverbreiterung 40 mm (2 x 20 mm) Mercedes LK 5/112 NB 66.5. Pipercross Sportluftfilter Hyundai i30 N + Fastback (PDE, ab 17) 2.0 250/275PS. H&R Federn ABE 35mm 29261-2 Audi A3 8P ab 1021 kg Tieferlegung Sportfedern. H&R Federn ABE 35mm 28840-2 VW Golf VII GTI + Performance (AU) Tieferlegung.
Eibach Sportline Federn mit ABE VA 25-30 / HA 25 mm Skoda Octavia RS 5E. Eibach Pro-Kit Federn 35/30mm Audi A4 Avant (8K5, B8) E10-15-011-01-22. Eibach Pro-Kit ABE Federn 25-30/15-20mm VW Golf VII GTI/GTD E10-15-021-02-22. H&R Spurverbreiterung schwarz 40mm B40556658 Audi A6 4G, 4G1 Spurplatten. Eibach Pro-Kit Federn BMW 3 E46 Limousine, Coupe, Cabrio, Touring E2067-140.
Powered by MMM Automotive GmbH. This item is in the category "Auto & Motorrad: Teile\Auto-Tuning & -Styling\Chiptuning & Motortuning\Tuning Software". The seller is "mmm-automotive" and is located in this country: DE. This item can be shipped worldwide.
Hersteller: DTE Systems
Herstellernummer: 10723730
Marke: DTE Systems

---