4x New Glow Plug For Renault Volvo Clio I B C57 5 357 F8q 678 F8q 730 F8q 732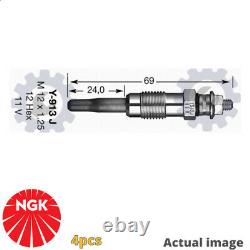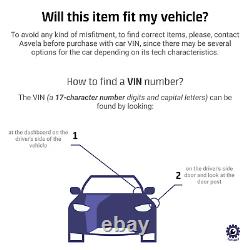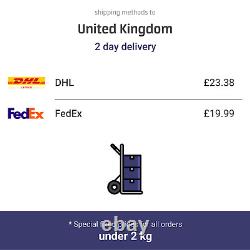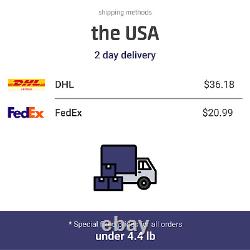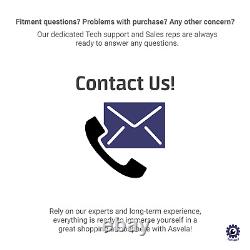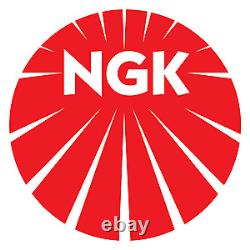 4X NEW GLOW PLUG FOR RENAULT VOLVO CLIO I B C57 5 357 F8Q 678 F8Q 730 F8Q 732. M5 / 3,0-4,0 Nm. Will this item fit your vehicle? Before purchasing, please, pay attention to item Tech Data and check Reference Numbers section.
Make sure that one of these reference numbers does coincide with the number of your previous part or does replace your Original Equipment Number. Surely, in case you doubt in fitment, cannot find the number of your previous part listed in Reference Numbers section, or just cannot be sure about item compatibility with your vehicle, we are here to assist you from Monday to Friday (excluding weekends, but still we will get in touch on Monday).
Thank you for your understanding. Our listings tech data details are provided from official manufacturers' tech data sources. It is highly recommended to verify fitment with our dedicated support before ordering.
Use engines info and vehicle YMM compatibility chart for general guide. To avoid any kind of misfitment, when you doubt in compatibility, or cannot find the correct item, please, contact Parts4Car tech support before purchasing.
Strictly important to provide VIN along with your detailed request since there can be different options for your car specific tech characteristics. The VIN a 17-character number (digits and capital letters)can be found by looking at the dashboard on the driver's side of the vehicle or on the driver's side door and look at the door post. NGK 5317 87295153178 B/C57 5/357 B/C40 L42 B/C37 B/C53 L53 F40 G40 S37 S53 S57 L48 B48 S40 343 345 344 F8Q 678 F8Q 730 F8Q 732 F8M 720 F8M 730 F8M 700 F8Q 706 F8Q 742 F8Q 744 F8M 736 F8M 760 F8Q 774 F8Q 776 F8Q 646 F8Q 722 F8Q 724 F8Q 710 D 16 ASHIKA 0109914 ASHUKI 143048A 163048A 193048A AUTOMEGA 1500596 150059610 1500646 3012140319 30601540593 30770007330076 BERU GN909 V2970100226186 A178352A V2970100226229 BORGW BERU GV 852 0100226163 852MJ BOSCH 0250201039 0250201043 250201039 250201043 GBH0250201043 XBS0250201039 0250201029 GLP037 BREMI 26016 BRISK 21 R 26 BSG BSG70870001 CHAMPION CH173 CH189 A178352A CH189002 CH173002 CH173/002 DACIA 77 00 855 865 77 00 856 238 82 00 090 817 DELPHI HDS347 HDS342 DENSO DG001 DG006 DT SPARE PARTS 761100 627310 DURER DG07040 ERA 886021 EYQUEM 0911101114 0911101117 PTD603 911101114 FAE 74161 74140 FAST FT82710 FEBI 15965 FEBI BILSTEIN FLENNOR FG9008 FG9668 HIDRIA H1656 13721656 JAPANPARTS CE914 JAPKO 01914 JP GROUP 1291800600 KAGER 652013 KAISHIN 39173 KLAXCAR FRANCE 41018Z 41008Z LUCAS HDS 347 LUCAS DIESEL LP033 LP036 LP064 LUCAS_ELEC MAGNETI MARELLI 060900060606 062407001312 062407006312 062587001304 060900370606 062580704304 62407001312 62407006312 62587001304 MASTER-SPORT SZ3PCSMS MAXGEAR 660040 MDR MGP6914 METZGER H5113 MEYLE 16148600000 MOTAQUIP LVGP147 VGP147 NGK 3965 5317 5413 6214 Y-913M NPS N571N21 PEMEBLA JAPCE914 JAPDG001 JAPDG006 RENAU 7700855865 7700856238 8200090817 RENAULT STANDARD W631 STELLOX 201043SX SWAG 60915965 TOPRAN 205246 VALEO 345100 345107 VEMO V99140001 V99140024. Packages sent by courier require signature. If you need our assistance, please let us to know.
If you see that the package that courier tries to deliver is damaged, please fill up the claim form or do not accept it. NOTIFY US right away, we will arrange a replacement/reimburse your order A.
Items that are sent in vacum or lubricated film cannot be opened if the retuns is issued. Please let us to know if you have not received our feedback, we will give feedback manually. This item is in the category "Vehicle Parts & Accessories\Car Parts & Accessories\Ignition Systems & Components\Glow Plugs". The seller is "spareparts4cars" and is located in this country: LT.
Manufacturer Part Number: 5317
Brand: NGK
EAN: 87295153178
UPC: 87295153178
Classic Car Part: No
Custom Bundle: No
Modified Item: No
Mileage: 0
Manufacturer Warranty: 12 Month
Unit Quantity: 4
Unit Type: Unit
Reference OE/OEM Number: B/C57 5/357 B/C40 L42 B/C37 B/C53 L53 F40 G40 S37 S53 S57 L48, B48 S40 343 345 344 F8Q 678 F8Q 730 F8Q 732 F8M 720 F8M 730, F8M 700 F8Q 706 F8Q 742 F8Q 744 F8M 736 F8M 760 F8Q 774 F8Q 776, F8Q 646 F8Q 722 F8Q 724 F8Q 710 D 16 ASHIKA 0109914 ASHUKI, 143048A 163048A 193048A AUTOMEGA 1500596 150059610 1500646, 3012140319 30601540593 30770007330076 BERU GN909 V2970100226186, A178352A V2970100226229 BORGW BERU GV 852 0100226163 852MJ, BOSCH 0250201039 0250201043 250201039 250201043 GBH0250201043, XBS0250201039 0250201029 GLP037 BREMI 26016 BRISK 21 R 26 BSG, BSG70870001 CHAMPION CH173 CH189 A178352A CH189002 CH173002, CH173/002 DACIA 77 00 855 865 77 00 856 238 82 00 090 817, DELPHI HDS347 HDS342 DENSO DG001 DG006 DT SPARE PARTS 761100, 627310 DURER DG07040 ERA 886021 EYQUEM 0911101114 0911101117, PTD603 911101114 FAE 74161 74140 FAST FT82710 FEBI 15965, FEBI BILSTEIN FLENNOR FG9008 FG9668 HIDRIA H1656 13721656, JAPANPARTS CE914 JAPKO 01914 JP GROUP 1291800600 KAGER 652013, KAISHIN 39173 KLAXCAR FRANCE 41018Z 41008Z LUCAS HDS 347, LUCAS DIESEL LP033 LP036 LP064 LUCAS_ELEC MAGNETI MARELLI, 060900060606 062407001312 062407006312 062587001304, 060900370606 062580704304 62407001312 62407006312 62587001304, MASTER-SPORT SZ3PCSMS MAXGEAR 660040 MDR MGP6914 METZGER H5113, MEYLE 16148600000 MOTAQUIP LVGP147 VGP147 NGK 3965 5317 5413, 6214 Y-913M NPS N571N21 PEMEBLA JAPCE914 JAPDG001 JAPDG006, RENAU 7700855865 7700856238 8200090817 RENAULT STANDARD W631, STELLOX 201043SX SWAG 60915965 TOPRAN 205246 VALEO 345100, 345107 VEMO V99140001 V99140024

---