2x New Brake Disc For Renault Thalia I Lb K7m 746 K4m 740 K9k 700 F8q 630 Fag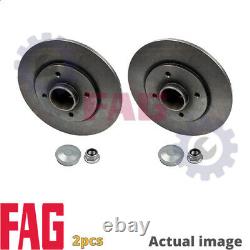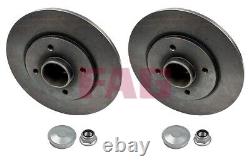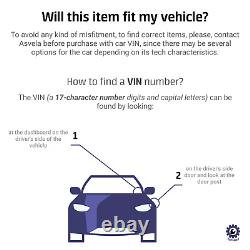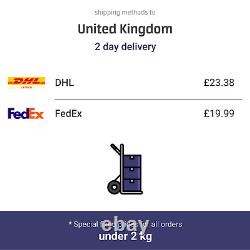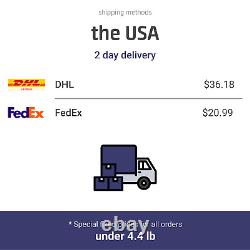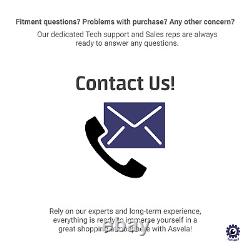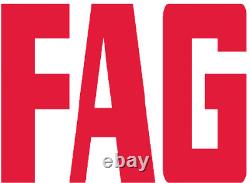 2X NEW BRAKE DISC FOR RENAULT THALIA I LB K7M 746 K4M 740 K9K 700 F8Q 630 FAG. Will this item fit your vehicle? Before purchasing, please, pay attention to item Tech Data and check Reference Numbers section. Make sure that one of these reference numbers does coincide with the number of your previous part or does replace your Original Equipment Number. Surely, in case you doubt in fitment, cannot find the number of your previous part listed in Reference Numbers section, or just cannot be sure about item compatibility with your vehicle, we are here to assist you from Monday to Friday (excluding weekends, but still we will get in touch on Monday).
Thank you for your understanding. Our listings tech data details are provided from official manufacturers' tech data sources. It is highly recommended to verify fitment with our dedicated support before ordering.
Use engines info and vehicle YMM compatibility chart for general guide. To avoid any kind of misfitment, when you doubt in compatibility, or cannot find the correct item, please, contact Parts4Car tech support before purchasing. Strictly important to provide VIN along with your detailed request since there can be different options for your car specific tech characteristics.
The VIN a 17-character number (digits and capital letters)can be found by looking at the dashboard on the driver's side of the vehicle or on the driver's side door and look at the door post. FAG 713 5311 00 4014870033545 LB BB CB SB0/1/2 K7M 746 K4M 740 K9K 700 F8Q 630 D4F 712 D4F 706 D4F 728 K7J 700 K4J 712 D7F 744 D7F 746 K9K 706 K4J 711 K4J 710 K4J 713 K4J 715 D7D 760 F4R 736 F4R 730 D7F 722 D7F 766 D7F 764 D7F 710 D7F 720 D7F 726 E7J 780 E7J 634 E7J 635 K7M 744 K7M 745 K4M 742 K4M 743 K4M 708 K4M 744 K4M 745 K4M 748 F8Q 632 K9K 702 D4F 722 D4F 714 K9K 704 F9Q 780 F9Q 782 F8Q 662 RENAULT 77 01 207 611 A. A178352A 08583437 17447 17447C 17447COE A. 14934Y ABE C4R044ABE ACDELCO AC3740D ACEMARK 192606 APEC BRAKING DSK2943 ATE 24010801172 AUTEX 843033 AUTLOG BS6003 AUTOKIT 0197933 AUTOMEGA 1101104 AUTOMOTIVE BEARINGS ABK1769 AUTOTEAM RA3110 BELACO BDI1808 BENDIX 050022B 051429B 562610B BIRTH 3482 BOSCH 0986478557 0986479760 986478557 986479760 BRAKE ENGINEERING DI956936S BRECO BY7724 BREDA LORETT CR8116 DFM0020 KRT8116 BREMBO 8583437 BRT BEARINGS PWK1769 CALIBER RC3110 CAR 142599 HPD599 COMLINE ADC3026 AND8526 EUROBRAKE 5401763914 FAG 713531100 FENOX WKB60124 FERODO DDF1984 DDF19841 FLENNOR FR791241 FRI. DF830A GIRLING 6060456 GSP 9225040K HELLA 8DD355117311 HELLA PAGID IJS GROUP 101288 IPD 342028 JURATEK REN163C JURID 562610J KAGER 830476 KAMOKA 1031139 KM INTERNATIONAL RK3110 LPR R1034PCA R1034PRCA LYNXAUTO BN1874 MALO 1110490 1271122 MASTER-SPORT 2401106045BPCSMS 2401106045BSETMS MAXGEAR 191972SPORT MAXTECH 8753540001 8753540061 8753540081 8753546061 8753546881 8753546981 METZGER 6110724 MGA D1873R MINTEX MDC2266 MOOG REWB11486D2 NATIONAL NBD1808 NK 763914 OPTIMAL 702352 702352BS2 PAGID 55317 PATRON PBK969 QUINTON HAZELL BDC6001 ROTINGER RT3281BS RT3281BST5 RUVILLE 5594BD SASIC 6104040 SBS 1401763914 SNR KF155105U SPIDAN 26683 72158 ST-TEMPLIN 5311025691 5311125691 TEXTAR 92231700 92231703 TREVI AUTOMOTIVE WB2294 TRISCAN 812025148 TRUSTING TRW DF6045BS VALEO 197118 197309 RENAU 7701207611 RUV.
Packages sent by courier require signature. If you need our assistance, please let us to know. If you see that the package that courier tries to deliver is damaged, please fill up the claim form or do not accept it. NOTIFY US right away, we will arrange a replacement/reimburse your order A.
Items that are sent in vacum or lubricated film cannot be opened if the retuns is issued. Please let us to know if you have not received our feedback, we will give feedback manually. This item is in the category "Vehicle Parts & Accessories\Car Parts & Accessories\Brakes & Brake Parts\Brake Disc Rotors". The seller is "spareparts4cars" and is located in this country: LT. This item can be shipped worldwide.
Reference OE/OEM Number: LB BB CB SB0/1/2 K7M 746 K4M 740 K9K 700 F8Q 630 D4F 712, D4F 706 D4F 728 K7J 700 K4J 712 D7F 744 D7F 746 K9K 706 K4J 711, K4J 710 K4J 713 K4J 715 D7D 760 F4R 736 F4R 730 D7F 722 D7F 766, D7F 764 D7F 710 D7F 720 D7F 726 E7J 780 E7J 634 E7J 635 K7M 744, K7M 745 K4M 742 K4M 743 K4M 708 K4M 744 K4M 745 K4M 748 F8Q 632, K9K 702 D4F 722 D4F 714 K9K 704 F9Q 780 F9Q 782 F8Q 662 RENAULT, 77 01 207 611 A. A178352A 08583437 17447 17447C 17447COE, A. 14934Y ABE C4R044ABE ACDELCO AC3740D ACEMARK 192606, APEC BRAKING DSK2943 ATE 24010801172 AUTEX 843033 AUTLOG BS6003, AUTOKIT 0197933 AUTOMEGA 1101104 AUTOMOTIVE BEARINGS ABK1769, AUTOTEAM RA3110 BELACO BDI1808 BENDIX 050022B 051429B 562610B, BIRTH 3482 BOSCH 0986478557 0986479760 986478557 986479760, BRAKE ENGINEERING DI956936S BRECO BY7724 BREDA LORETT CR8116, DFM0020 KRT8116 BREMBO 8583437 BRT BEARINGS PWK1769 CALIBER, RC3110 CAR 142599 HPD599 COMLINE ADC3026 AND8526 EUROBRAKE, 5401763914 FAG 713531100 FENOX WKB60124 FERODO DDF1984 DDF19841, FLENNOR FR791241 FRI. DF830A GIRLING 6060456 GSP 9225040K, HELLA 8DD355117311 HELLA PAGID IJS GROUP 101288 IPD 342028, JURATEK REN163C JURID 562610J KAGER 830476 KAMOKA 1031139, KM INTERNATIONAL RK3110 LPR R1034PCA R1034PRCA LYNXAUTO BN1874, MALO 1110490 1271122 MASTER-SPORT 2401106045BPCSMS, 2401106045BSETMS MAXGEAR 191972SPORT MAXTECH 8753540001, 8753540061 8753540081 8753546061 8753546881 8753546981 METZGER, 6110724 MGA D1873R MINTEX MDC2266 MOOG REWB11486D2 NATIONAL, NBD1808 NK 763914 OPTIMAL 702352 702352BS2 PAGID 55317 PATRON, PBK969 QUINTON HAZELL BDC6001 ROTINGER RT3281BS RT3281BST5, RUVILLE 5594BD SASIC 6104040 SBS 1401763914 SNR KF155105U, SPIDAN 26683 72158 ST-TEMPLIN 5311025691 5311125691 TEXTAR, 92231700 92231703 TREVI AUTOMOTIVE WB2294 TRISCAN 812025148, TRUSTING TRW DF6045BS VALEO 197118 197309 RENAU 7701207611 RUV
Brand: FAG
Manufacturer Part Number: 713 5311 00
EAN: 4014870033545
UPC: 4014870033545
Unit Quantity: 2
Type: Brake Disc Rotor

---