2x New Brake Disc For Renault Nissan Thalia I Lb F8q 630 K9k 706 K7m 746 Brembo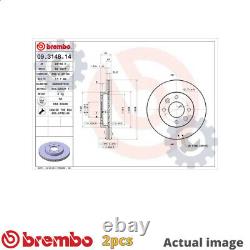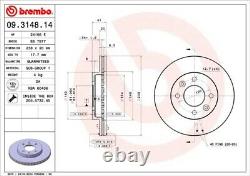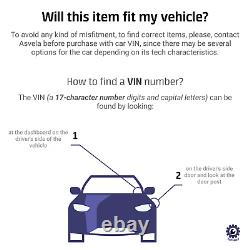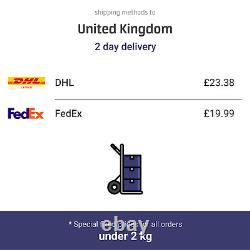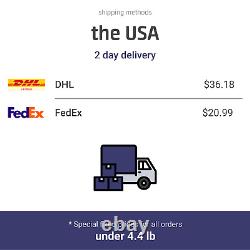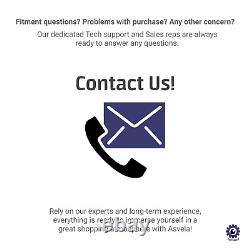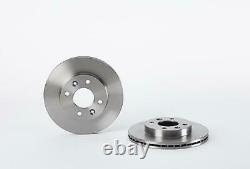 2X NEW BRAKE DISC FOR RENAULT NISSAN THALIA I LB F8Q 630 K9K 706 K7M 746 BREMBO. Will this item fit your vehicle? Before purchasing, please, pay attention to item Tech Data and check Reference Numbers section. Make sure that one of these reference numbers does coincide with the number of your previous part or does replace your Original Equipment Number.
Surely, in case you doubt in fitment, cannot find the number of your previous part listed in Reference Numbers section, or just cannot be sure about item compatibility with your vehicle, we are here to assist you from Monday to Friday (excluding weekends, but still we will get in touch on Monday). Thank you for your understanding. Our listings tech data details are provided from official manufacturers' tech data sources. It is highly recommended to verify fitment with our dedicated support before ordering. Use engines info and vehicle YMM compatibility chart for general guide.
To avoid any kind of misfitment, when you doubt in compatibility, or cannot find the correct item, please, contact Parts4Car tech support before purchasing. Strictly important to provide VIN along with your detailed request since there can be different options for your car specific tech characteristics. The VIN a 17-character number (digits and capital letters)can be found by looking at the dashboard on the driver's side of the vehicle or on the driver's side door and look at the door post. BREMBO 09.3148.14 8020584012451 A. 24156E X24156 ABE C3R003ABE ACDELCO AC2027D AP APEC DSK199 APEC BRAKING APLPR R1111V ASAM 71251 ASHUKI 172909A N01376 ATE 24012001251 AUTOMEGA 1200495 120049510 BARUM BAR20125 BENDIX 561336B 561336BC BLITZ BS0108 BLUE PRINT ADN143113 BORG & BECK BBD4877 BOSCH 0986478276 0986479850 0986479R66 0986AB6146 986478276 986479850 A178352A F026A05706 0986BB4086 BRAKE ENG DI951880 BRAKE ENGINEERING BRECK BR327VA100 BRECO BS7877 BREMBO 09314875 9314814 9314875 DP68005 DP68006 DP68011 DP68029 09314810 CAR 142573 HPD573 CIFAM 800110 COMLINE ADC1505V DELPHI BG2282 BG2282C DENCKERMANN B130221 DITAS DFD1004 DON MDC956 E. 196572 EUROBRAKE 5815203909 FARCOM 230824 FEBI 09072 FEBI BILSTEIN 9072 FENOX TB217147 FERODO DDF158 DDF1581 DDF158C DDF158C1 DRF158 FLENNOR FB110083C FREMAX BD6572 FRI. BD0272 DF272 FRIGAIR DC21112 FTE BS3546 BS3546B GALFER B1G22001251 GBRAKE GR02040 GIRLING 6010161 HANSPRIES 700176 HELLA 8DD355101251 8DD355101261 HELLA PAGID HERTH+BUSS JAKOPARTS J3301098 ICER 78BD6572 78BD65722 JD JBD0125 JP GROUP 4363100400 4363100409 JURID 561336J 561336JC JURIDBENDIX KAGER 370173 KAMOKA 103316 KAVO PARTS BR6808 BR6808C KAWE 608010 37432 KLAXCAR FRANCE 25005Z KOSHIMO 18700071012 KRAFT AUTOMOTIVE 6045010 LEMFORDER 1815103 LPR MAGNETI MARELLI 353614013240 360406042400 360704000200 361302040262 431602040260 MALO 1110109 MAPCO A178352A 15109 151092 MASTER-SPORT 24012001251PCSMS 24012001251SET2MS 24012001251SETMS MAXGEAR 190747 MENSAN 270202 METELLI 230110 METZGER 6110071 MEYLE 16155210003 16155210003PD 16155210037 16155210037PD MGA D910 MILES K000279 MINTEX MDK0083 MDK0129 MOTRIO 8671000085 NATIONAL NBD083 NECTO WN403 NF NF1699109 NF203909 NIBK RN1002 NIPPARTS N3301110 NISSA 4020600Q0D 4020600QAJ NK 203909 313909 OPEN PARTS BDA145020 BDR145020 OPTIMAL BS0800 OTTOZIMMERMANN 470240300 PAGID 52820 PATRON PBD1016 PEX 140476 PILENGA V147 PROFIT 50100158 PROTECHNIC PRD2105 QH BENELUX BDC3546 QUINTON HAZELL REMSA 814101 814105 819202 864301 897600 RENAU 7700756572 7701204286 RENAULT ROADHOUSE ROTINGER RT2040 RT2040T5 SASIC 4004255J SBS 1815203909 1815313909 1815203906 1815203922 SFEC BD000147 SRLINE S710031 STARLINE PB2040 STELLOX 60203909VSX 60203922VSX STOP 561336S ST-TEMPLIN 031102600310 0311083390 0311083395 5311083390 5311183390 SWAG 60909072 TEXTAR 89002400 89004600 89009300 92036200 92036203 TOPRAN TRISCAN 812025104 812025104C TRUCKTEC 1935015 TRUCKTEC AUTOMOTIVE TRUSTING TRW DF1016 VAICO V4680001 VALEO 186229 297229 886229 VEMA 98099 VILLAR 6280534 WAGNER WGR01581 WOKING 8041301 8041305 8092302 8743301 8876300 D608010 ZEKKERT BS5106 ZIMMERMANN 470240320.
Packages sent by courier require signature. If you need our assistance, please let us to know. If you see that the package that courier tries to deliver is damaged, please fill up the claim form or do not accept it. NOTIFY US right away, we will arrange a replacement/reimburse your order A.
Items that are sent in vacum or lubricated film cannot be opened if the retuns is issued. Please let us to know if you have not received our feedback, we will give feedback manually. This item is in the category "Vehicle Parts & Accessories\Car Parts & Accessories\Brakes & Brake Parts\Brake Disc Rotors". The seller is "spareparts4cars" and is located in this country: LT.
Reference OE/OEM Number: A. 24156E X24156 ABE, C3R003ABE ACDELCO AC2027D AP APEC DSK199 APEC BRAKING APLPR, R1111V ASAM 71251 ASHUKI 172909A N01376 ATE 24012001251, AUTOMEGA 1200495 120049510 BARUM BAR20125 BENDIX 561336B, 561336BC BLITZ BS0108 BLUE PRINT ADN143113 BORG & BECK BBD4877, BOSCH 0986478276 0986479850 0986479R66 0986AB6146 986478276, 986479850 A178352A F026A05706 0986BB4086 BRAKE ENG DI951880, BRAKE ENGINEERING BRECK BR327VA100 BRECO BS7877 BREMBO 09314875, 9314814 9314875 DP68005 DP68006 DP68011 DP68029 09314810 CAR, 142573 HPD573 CIFAM 800110 COMLINE ADC1505V DELPHI BG2282, BG2282C DENCKERMANN B130221 DITAS DFD1004 DON MDC956 E., 196572 EUROBRAKE 5815203909 FARCOM 230824 FEBI 09072, FEBI BILSTEIN 9072 FENOX TB217147 FERODO DDF158 DDF1581 DDF158C, DDF158C1 DRF158 FLENNOR FB110083C FREMAX BD6572 FRI. , BD0272 DF272 FRIGAIR DC21112 FTE BS3546 BS3546B GALFER, B1G22001251 GBRAKE GR02040 GIRLING 6010161 HANSPRIES 700176, HELLA 8DD355101251 8DD355101261 HELLA PAGID, HERTH+BUSS JAKOPARTS J3301098 ICER 78BD6572 78BD65722 JD, JBD0125 JP GROUP 4363100400 4363100409 JURID 561336J 561336JC, JURIDBENDIX KAGER 370173 KAMOKA 103316 KAVO PARTS BR6808, BR6808C KAWE 608010 37432 KLAXCAR FRANCE 25005Z KOSHIMO, 18700071012 KRAFT AUTOMOTIVE 6045010 LEMFORDER 1815103 LPR, MAGNETI MARELLI 353614013240 360406042400 360704000200, 361302040262 431602040260 MALO 1110109 MAPCO A178352A 15109, 151092 MASTER-SPORT 24012001251PCSMS 24012001251SET2MS, 24012001251SETMS MAXGEAR 190747 MENSAN 270202 METELLI 230110, METZGER 6110071 MEYLE 16155210003 16155210003PD 16155210037, 16155210037PD MGA D910 MILES K000279 MINTEX MDK0083 MDK0129, MOTRIO 8671000085 NATIONAL NBD083 NECTO WN403 NF NF1699109, NF203909 NIBK RN1002 NIPPARTS N3301110 NISSA 4020600Q0D
Brand: BREMBO
Manufacturer Part Number: 09.3148.14
EAN: 8020584012451
UPC: 8020584012451
Unit Quantity: 2
Type: Brake Disc Rotor

---