2x New Brake Disc For Renault Megane III Grandtour Kz0 1 F4r 874 R9m 409 Textar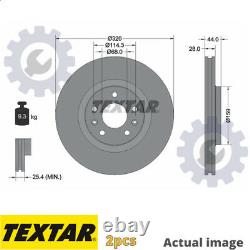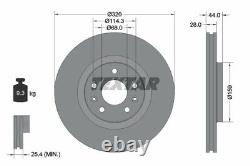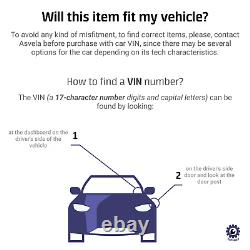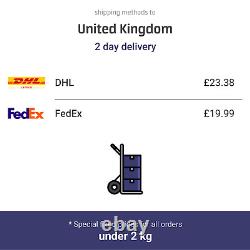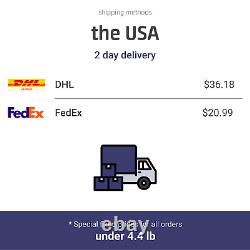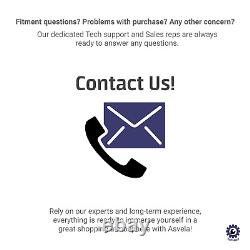 2X NEW BRAKE DISC FOR RENAULT MEGANE III GRANDTOUR KZ0 1 F4R 874 R9M 409 TEXTAR. Bolt Hole Circle Ø [mm]. 98200 1954 0 1 PRO. Will this item fit your vehicle?
Before purchasing, please, pay attention to item Tech Data and check Reference Numbers section. Make sure that one of these reference numbers does coincide with the number of your previous part or does replace your Original Equipment Number. Surely, in case you doubt in fitment, cannot find the number of your previous part listed in Reference Numbers section, or just cannot be sure about item compatibility with your vehicle, we are here to assist you from Monday to Friday (excluding weekends, but still we will get in touch on Monday).
Thank you for your understanding. Our listings tech data details are provided from official manufacturers' tech data sources. It is highly recommended to verify fitment with our dedicated support before ordering.
Use engines info and vehicle YMM compatibility chart for general guide. To avoid any kind of misfitment, when you doubt in compatibility, or cannot find the correct item, please, contact Parts4Car tech support before purchasing.
Strictly important to provide VIN along with your detailed request since there can be different options for your car specific tech characteristics. The VIN a 17-character number (digits and capital letters)can be found by looking at the dashboard on the driver's side of the vehicle or on the driver's side door and look at the door post. TEXTAR 92195403 4019722403798 KZ0/1 JR L47 L2M B9A/M/N BT0/1 KT0/1 JZ0/1 KP L70 DT0/1 J9 R9 BH F4R 874 R9M 409 M5M 450 R9M 452 VQ25 2ZVA604 VQ35 5ZVB605 K9K 646 K9K 647 R9M 453 M4R 735 M4R 739 H4M 749 H4M 750 H4M 751 H4M 738 H4M 748 V9X 891 V9X 791 F4R 800 M9R 820 M9R 828 M9R 816 M9R 815 M9R 800 M9R 809 M9R 854 M9R 857 M9R 858 M9R 806 V4Y 713 M9R 849 M9R 615 M9R 610 M9R 744 M9R 748 M9R 805 M9R 802 M9R 814 M9R 808 M9R 754 M9R 845 H5F 408 K9K 846 M5M 401 M5M 400 A. 25272 25272V ABE C3R046ABE ACDELCO AC3747D APEC DSK2679 APEC BRAKING ATE 24012802451 428245 BELACO BDI1742 BENDIX 562596BC BLUE PRINT ADR164308 BLUEPRINT BORG & BECK BBD4781 BORG BECK BOSCH 0986479552 A178352A 0986479S94 986479552 BRAKE ENG DI956726 BRAKE ENGINEERING BRAXIS AE0350 BRECO BS8882 BV8882 BREMBO 09B35210 09B3521X BREMSI DBB727V BSF 11676V CAR 1421494 HPD1494 CIFAM 8001334C COMLINE ADC1582V AND6716 DELPHI BG4266 DENCKERMANN B130596 DON PCD14132 E. 194309 EUROBRAKE 5815203969 FEBI 43949 FEBI BILSTEIN FERODO DDF1727 DDF17271 DDF1727C FOMAR FRICTION FO2956 FREMAX BD4162 FRI.
BD1360 DF1360 FTE BS7239 BS7239B GIRLING 6062085 HELLA 8DD355116141 8DD355124181 8DD355129111 HELLA PAGID HELLAPAGID 355116141 355124181 355129111 JURATEK REN187 JURID 562596JC 562596JC1 KAGER 371252 371394 KAMOKA 1033454 KAWE 6134510 LPR R1057V MAGNETI MARELLI 360406112100 MALO 1110378 MAXGEAR 192363 192363SPORT MAXTECH 8753670000 8753670060 8753670080 8753676060 8753676880 A178352A 8753676980 METELLI 231334C METZGER 6110002 MEYLE 16155210023PD 16155210043PD MGA D1824 MIN MDC2194 MINTEX MOTAQUIP LVBD1346Z MOTRIO 8660001233 8660001234 NATIONAL NBD1742 NF NF203969 NK 203969 313969 OPEN PARTS BDA254720 BDR254720 OPTIMAL BS8302 PAGID 54954 54954PRO PILENGA V797 PROTECHNIC PRD2890 QH BENELUX BDC5840 QUINTON HAZELL REMSA RENAU 402060003R 402064155R 402065646R RENAULT ROADHOUS ROADHOUSE ROTINGER RT4503 RT4503GL RT4503GLT5 RT4503HP RT4503HPGL RT4503HPGLT5 RT4503HPT5 RT4503T5 SASIC 6104026 SBS 1815203969 1815313969 ST-TEMPLIN 5311083900 5311183900 SWAG 60943949 TEXTAR 92195403 92195400 TRISCAN 812025154 812025154C TRUSTING TRW DF6208S VAICO V4680018 VALEO 197486 VILLAR 6282715 WOKING D6134510 ZIMMERMANN 470243820 470243852. Packages sent by courier require signature. If you need our assistance, please let us to know. If you see that the package that courier tries to deliver is damaged, please fill up the claim form or do not accept it. NOTIFY US right away, we will arrange a replacement/reimburse your order A.
Items that are sent in vacum or lubricated film cannot be opened if the retuns is issued. Please let us to know if you have not received our feedback, we will give feedback manually. This item is in the category "Vehicle Parts & Accessories\Car Parts & Accessories\Brakes & Brake Parts\Brake Disc Rotors". The seller is "spareparts4cars" and is located in this country: LT.
Manufacturer Part Number: 92195403
Brand: TEXTAR
EAN: 4019722403798
UPC: 4019722403798
Classic Car Part: No
Custom Bundle: No
Modified Item: No
Mileage: 1
Warranty Period: 12 Month
Unit Type: Unit
Reference OE/OEM Number: KZ0/1 JR L47 L2M B9A/M/N BT0/1 KT0/1 JZ0/1 KP L70 DT0/1 J9 R9, BH F4R 874 R9M 409 M5M 450 R9M 452 VQ25 2ZVA604 VQ35 5ZVB605, K9K 646 K9K 647 R9M 453 M4R 735 M4R 739 H4M 749 H4M 750 H4M 751, H4M 738 H4M 748 V9X 891 V9X 791 F4R 800 M9R 820 M9R 828 M9R 816, M9R 815 M9R 800 M9R 809 M9R 854 M9R 857 M9R 858 M9R 806 V4Y 713, M9R 849 M9R 615 M9R 610 M9R 744 M9R 748 M9R 805 M9R 802 M9R 814, M9R 808 M9R 754 M9R 845 H5F 408 K9K 846 M5M 401 M5M 400 A. 25272 25272V ABE C3R046ABE ACDELCO, AC3747D APEC DSK2679 APEC BRAKING ATE 24012802451 428245 BELACO, BDI1742 BENDIX 562596BC BLUE PRINT ADR164308 BLUEPRINT, BORG & BECK BBD4781 BORG BECK BOSCH 0986479552 A178352A, 0986479S94 986479552 BRAKE ENG DI956726 BRAKE ENGINEERING, BRAXIS AE0350 BRECO BS8882 BV8882 BREMBO 09B35210 09B3521X, BREMSI DBB727V BSF 11676V CAR 1421494 HPD1494 CIFAM 8001334C, COMLINE ADC1582V AND6716 DELPHI BG4266 DENCKERMANN B130596 DON, PCD14132 E. 194309 EUROBRAKE 5815203969 FEBI 43949, FEBI BILSTEIN FERODO DDF1727 DDF17271 DDF1727C FOMAR FRICTION, FO2956 FREMAX BD4162 FRI. BD1360 DF1360 FTE BS7239 BS7239B, GIRLING 6062085 HELLA 8DD355116141 8DD355124181 8DD355129111, HELLA PAGID HELLAPAGID 355116141 355124181 355129111 JURATEK, REN187 JURID 562596JC 562596JC1 KAGER 371252 371394 KAMOKA, 1033454 KAWE 6134510 LPR R1057V MAGNETI MARELLI 360406112100, MALO 1110378 MAXGEAR 192363 192363SPORT MAXTECH 8753670000, 8753670060 8753670080 8753676060 8753676880 A178352A, 8753676980 METELLI 231334C METZGER 6110002 MEYLE 16155210023PD, 16155210043PD MGA D1824 MIN MDC2194 MINTEX MOTAQUIP LVBD1346Z, MOTRIO 8660001233 8660001234 NATIONAL NBD1742 NF NF203969 NK, 203969 313969 OPEN PARTS BDA254720 BDR254720 OPTIMAL BS8302, PAGID 54954 54954PRO PILENGA V797 PROTECHNIC PRD2890 QH BENELUX, BDC5840 QUINTON HAZELL REMSA RENAU 402060003R 402064155R
Unit Quantity: 2
Type: Brake Disc Rotor

---